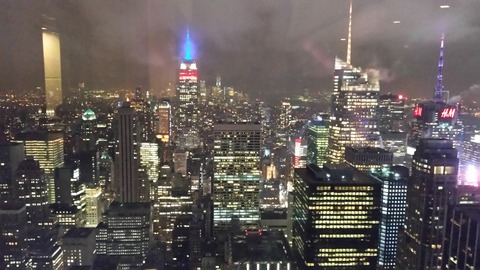 グローバル社会の真っ只中にある現代、小学校で「外国語活動」として英語が必須化されています。文部科学省は、2020年には英語教育の完全義務化の指針を示し、準備期間として既に今年度から小学校3年生の授業に「外国語活動」が含まれるようになりました。
可能な限り早い時期から子供たちが世界共通語である英語に慣れ親しみ、将来、国際社会で活躍できる人材に成長して欲しい一念から、バーチャル子供国際塾を創造しました。
テキストは子供たちが国際的なトピックスに関する知識を身に付けるビニェット(会話)を内容として構成していきます。では、子供国際塾『レッスン7』をどうぞ。
Jump Rope in Omachi
大町で縄跳び
GG We're going to stay at this villa for 3 nights.
My company owns this villa, and all employees can stay here with their families at free of charge as one of benefits package.
この保養所で3泊するよ。
会社の保養所だから、福利厚生として社員と社員の家族が無料で宿泊できるんだ。
Lin Glad Mofu and Coco get to sleep by my side.
モフやココが隣りに眠るなんてうれしいな。
Barba Omachi is a vast and beautiful city.
A great vacation here may take you to the mountains of the Northern Japanese Alps, the Kizaki-ko Lakes, or even the shopping mole.
大町市は結構大きくてきれいなところよ。
長い休みをここで過ごすなら、北アルプスとか木崎湖、ちょっとしたショッピングモールにも行けるのよ。
Rei I really wanted to come again since last time when we were here in spring last year.
去年の春に来た時から、また行きたいなってずっと思ってたの。
Mom There is no better way to enjoy a relaxing vacation at these spots than by staying at the villa in Omachi.
This retro-modern space is the perfect family getaway and the best way to enjoy the energy of this place.
Plus, a bonus "hot springs" available anytime for 24 hours a day.
大町の保養所に泊まるって、これほどリラックスした休日を楽しめることは他にないわ。
レトロでもありモダンでもあるこの雰囲気は完璧な家族旅行といえるし、この場所のエネルギーを満喫するのにもベストね。
ついでに一日24時間いつでも入れる温泉の特典つき。
GG Nothing warms the bones and soothes the soul like soaking in mineral-rich waters heated deep below the earth's surface.
地表から深いところで暖められたミネラルたっぷりのお湯に浸かるほど、身体の芯を温めて気持ちを癒すものはないね。
Mom We shall give our dogs a shampoo with hot spring water during our stay here.
宿泊中に犬たちも温泉で洗ってやろうね。
Rei Mom, can I practice a jump rope right now here?
ママ、いまここで縄跳びの練習をしてもいい?
Mom It's fast becoming popular at the class.
She is now challenging the side under jump.
She can do 67 jumps without stopping or messing up so far.
学校の教室で急に流行っているの。
レイちゃんは側振り跳びに挑戦中なの。
今のところ失敗しないで連続67回できるみたい。
Barba Sounds exciting.
Let me try.
おもしろそう。
やらせてぇ。
Rei All right.
Hold handles with a firm grip, elbows close to sides.
Make small circles with wrists while turning the rope.
Keep torso relaxed, head lifted, and gaze ahead for balance.
Jump only high enough to clear the rope, with light ankle-knee motion.
いいよ。
しっかりとハンドルを握って、肘を脇につける。
ロープが回わりはじめたら手首でも小さな円を描いて。
身体の力を抜いて、頭を上げ、前を見てバランスをとる。
足首と膝を軽く動かして、ロープを通す高さだけジャンプ。
GG What do you think she is doing, Lin-chan?
リンちゃん、バーバは何してると思う?
Lin She is doing double unders.
Didn't you see?
バーバは二重跳びしてるんだよ。
分からなかったの?
Mom Barba, during jumping, the rope should skim the surface lightly and your feet should not kick back behind you.
Always land softly on the balls of your feet.
バーバ、ジャンプしたとき床を軽くすくうようにロープを潜らし、足は後ろに蹴り上げないように。
着地はいつも足の親指の付け根にゆっくりと。
Barba I used to be the best player in my school days.
Something wrong with this rope.
学校では一番上手だったんだけど。
ロープが変なのかな。
GG I don't think so.
You probably forgot about it entirely after fourth grade, Barba.
違うと思うよ。
たぶん4年生以降すっかり忘れちゃったんだろうね。
Mom We always warm up before we start jumping, either by marching or jogging in place, for about five minutes.
Finish each workout with a 5-minute cool down, and be sure to stretch the calves, quadriceps, hamstrings and shoulders.
いつも縄跳びの前は、5分くらい早足とかジョギングをしてウォームアップすること。
練習の後は、5分くらいクールダウンして、ふくらはぎ、大腿四頭筋、膝の後ろの腱、それと、肩をよくストレッチすること。
GG Barba, it may be better for you to stop now before we see a hole in the floor.
バーバ、もう止めたほうがいいよ。床に穴が開くから。
Rei This is the side under jump.
Mom taught me how to use my arms.
The side under jump looks more challenging than it actually is.
I wish I could make 100 consecutive jumps during this spring break.
これ、側振跳びだよ。
ママが腕の使い方を教えてくれたんだよ。
側振跳びって難しく見えるけど実際はそれほどでもないんだ。
春休み中に連続100回は跳べるようになりたいな。
Lin Ma'am, when are we taking a hot spring bath?
ねぇーねぇー、いつ温泉に入るの?
GG Before taking a bath, let's walk dogs along the river to the foot of the Omachi dam in a stunning landscape, Lin-chan.
お風呂に入る前に、絶景の中を川に沿って大町ダムの裾まで犬の散歩に行こうか?リンちゃん。
Barba Say, that's terrific.
Let's all go together.
わぁー、それってすごい。
みんなで行こうよ。